Reading Time:
4
minutes
Disclosure: This shop has been compensated by Collective Bias, Inc. and its advertiser. All opinions are mine alone. #PurinaONEPets #CollectiveBias
Having a pet is like having kids, that's what my parents always told me. You have to take care of them, feed, take them to the vet, make sure they have what they need and they need constant attention. Which is pretty much like having a kid with the exception of taking them to the vet you actually take them to doctors lol. Hazel isn't my first dog. She's actually my second dog but my oldest dog lives with my parents since he doesn't do well in apartments. Thankfully that's not the problem with the Hazel. Today I'm going to talk to you about 4 ways you can start a healthy lifestyle for your dog.
When we took in Hazel we knew how small she was and that she wasn't getting any bigger. Hazel considered to be a "toy dog", she is only 4lbs. I've been told about smaller breeds, they tend to have more health issues but there are ways to ensure they don't have that many health issues.
Starting a Healthy Lifestyle for Your Dog with these easy 4 tips
Daily Walks
You'd be surprised but some dogs don't go out for enough walks during the day. We like to make sure that Hazel goes out at least 2-3x a day. She's got small legs but she loves it. This doesn't mean just putting your dog outside in the backyard, this means, taking them around the block or even jogging with them. Walks provide exercise for them and mental stimulation. They should walk for at least 15 mins/2x a day.
Brushing Their Teeth
I have to be honest about this. My other dog has had so many health issues because he hated to get his teeth cleaned. Now he's got a few teeth taken out because of it. With Hazel, we are making sure that doesn't happen. Dog stores have so many options to ease your dog's anxiety of getting their teeth cleaned and if you have the pet discounted plans that some vets offer, some of the plans offer teeth cleaning too.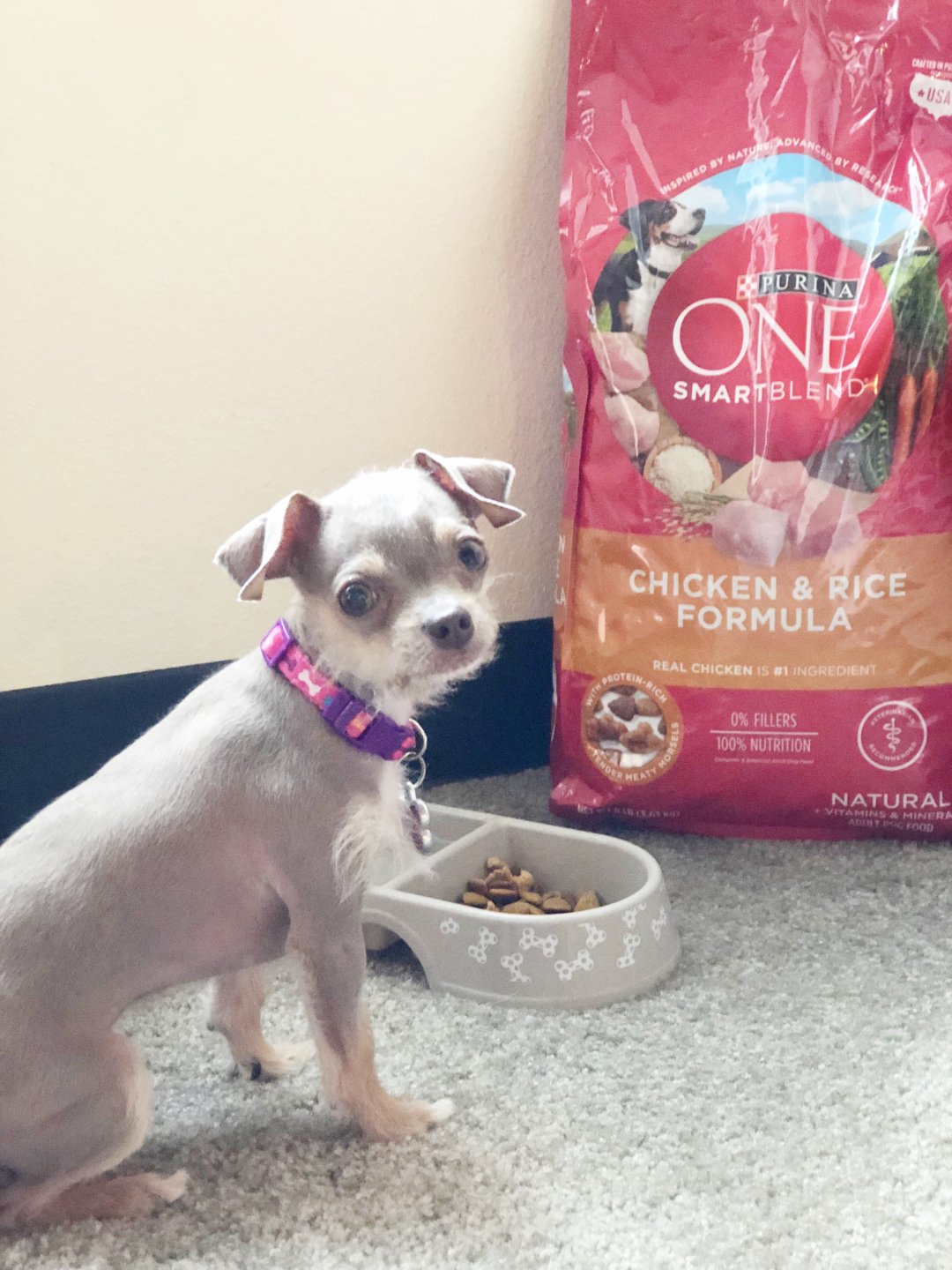 Start a healthy lifestyle for your dog with these easy 4 steps!
Click To Tweet
Routine Vet Visits
Like I stated earlier, having a pet is like having a kid. You have to make sure that they get their routine visits to the vet. Vets can tell you if your dog is healthy, needs any important vaccinations and let you know what lifestyle changes need to be done.
Healthy Eating
We recently switched to Purina ONE® Smartblend. The reason we did is that EVERY INGREDIENT HAS A PURPOSE. Purina ONE® doesn't just do food for dogs but also for cats. Purina ONE® ensure everything that goes into their dog/cat foods works together to provide balanced nutrition for your pet.  Each of their ingredients is formulated with high-quality real meat, poultry or fish to help support strong muscles and a healthy heart. Which means no added fillers or artificial flavors. What I love the most is that the food has a mix of vitamins and minerals designed to bring balanced nutrition, support a healthy immune system and promote a shiny, healthy coat for your dog/cat. From eyes to energy to skin and coat, every ingredient is combined in a smart way to make a noticeable difference in your pet's whole body health. Purina ONE® products come in formulas for all life stages
TAKE THE PURINA ONE® 28-DAY CHALLENGE

You could see a difference in 28 days when you make the switch to Purina ONE®. SIGN UP NOW to get a $3 off coupon and a personalized food recommendation for your pet.
I was able to find the Purina ONE® at my local Target in the pet aisle. Super easy to find as well. They pretty much have a whole section dedicated to Purina ONE®. Read more about Purina ONE® here!
9/2-9/15: FREE $5 Target GiftCard™ when you buy any two Purina ONE® Dry Dog Food bags.
5% off + free shipping when you subscribe to Purina ONE® at Target
What other ways can you ensure you start a healthy lifestyle for your dog?