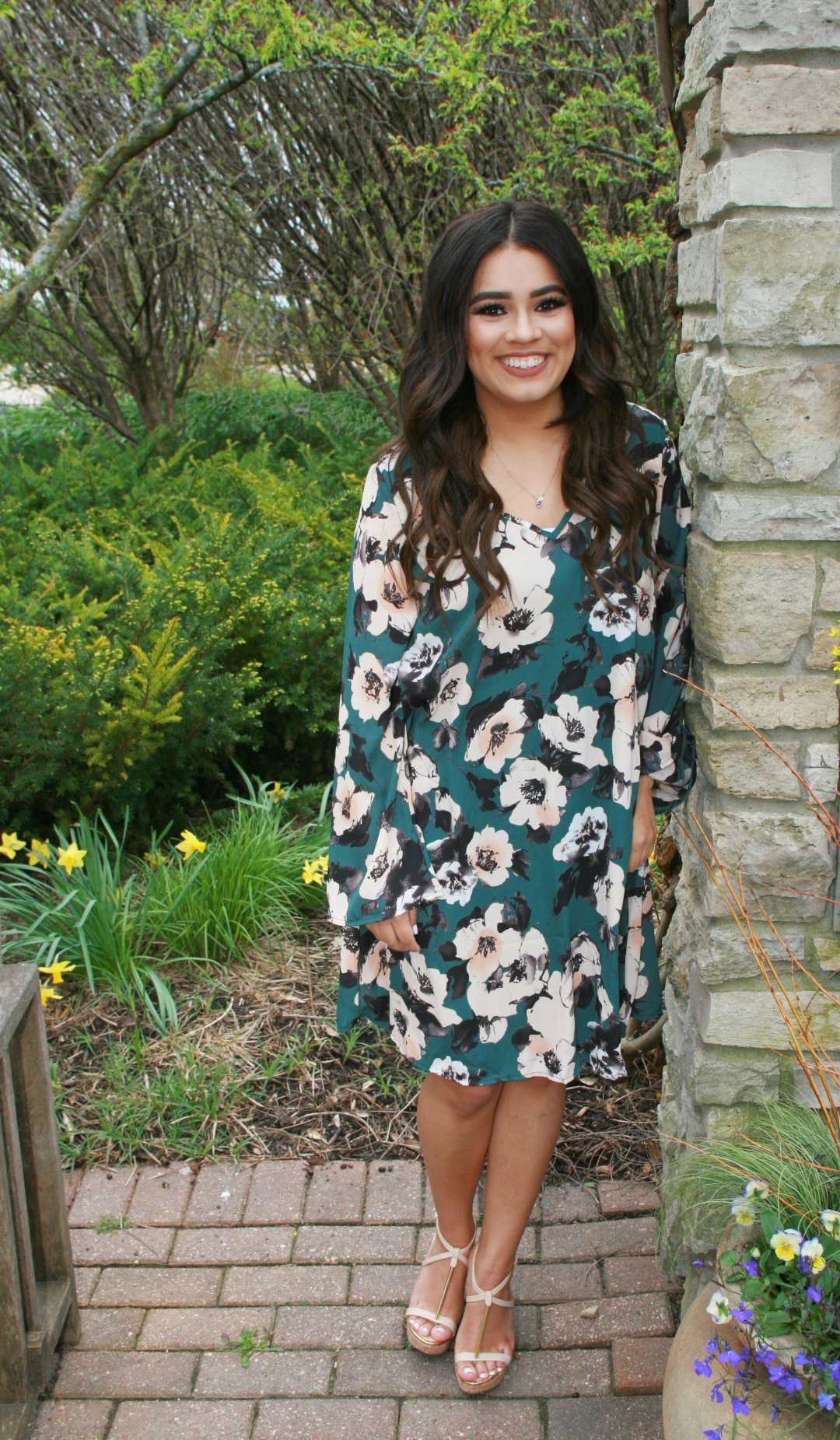 Mother's Day is nearly approaching and I'm definitely excited to be celebrating this day with my boys, Brian, and my family. We usually go out to dinner or grill out. Normally when it comes to special holidays like this I like to dress up very cute and this Shop PinkBlush dress is definitely the perfect Mother's Day outfit. If you're unfamiliar with Shop PinkBlush, they have beautiful clothes for moms or soon to be moms.
Earlier this week I did a part 1 of the Q&A and today I'm doing part 2. You guys had asked me so many great questions that I just had to answer them all.
What's your favorite mascara of all time? – @blondeandambitiousblog
I would have to say the Maybelline Lash Sensational.
Any tips on reaching out to brands? – @beautywithlily
I have an email template that I use to reach out to brands and I also include my media kit + rate card.
What's your brow routine? – @mo_meg
I use to get my brows threaded but now I just tweeze them. I like to fill in my brows and then I tweeze around it so it's clean. I use the Anastasia Beverly Hills dipbrow pomade + clear brow mascara.
Where do you see your blog in 5 years? – @summertelban
Hmm… I would hope that I'm still writing about the things I love and of course have a huge following. I love blogging and I want to continue to do this full time.
What's your biggest blogging regret? – @krystalynnblogs
Ummmm… not investing in my blog a long time ago. I wish I would have bought everything I needed such as design, lighting, and props I needed but not everyone can do that right away.
What's the one piece of advice you would give to someone starting out? – @thefrugalfashionistacdn
I would let them know to get a domain, use wordpress.org, make sure your social media handles matches and join Facebook groups.
First high-end beauty product u ever bought? – @brighterdarling
Urban Decay Naked 2 palette
What your best tip for oily skin? – @ashleyerichardson
Exfoliate, moisturize, tone, and use a mask every now and then.
What's the most interesting city you've visited? – @thepolishedposy
Ummmm…. I would have to say NYC. Even though I lived in New York, I still find it interesting the things you see there.
What has been your biggest challenge with blogging and how did you grow + learn from it? – @amylynbeauty
I want to say getting people to read my posts and follow me on social media. What I learned from it is that when you comment on others and engage with new people on social media you can gain exposure that way. Also, Facebook groups helped.
What is your favorite part of blogging? – @whatsfordinneresq
The amazing people I've gotten to know and become friends with.
How do you be able to manage a blogging life plus a child? – @glitzyglambeauty
I have two kids so when I started my blog my oldest was in kindergarten and my youngest was still a toddler so I had to manage taking care of a toddler while focusing on my blog. I definitely made a to-do list and took my time. But now that they're both in school, it's easier to work during the time they're at school.
If you could only live with one makeup product what would it be? – @krystaldiaries
Concealer. I need that to help cover up dark circles. Lol
What are your favorite saves/splurges? – @typicallyjane
Favorite saves: Wet'n Wild concealer – it's a dupe for Nars concealer
Splurge – Benefit Cosmetics Porefessional primer
If a movie was made of your life who would you want to play you and why? – @modernchicmag
Mila Kunis. I've always been told that I look liked her and that my attitude/personality matches her character on "That 70s Show" lol
What are your HG products?? – @amandahrosson
Maybelline Lash Sensational mascara, UD All Nighter foundation, Morphe palettes, Milani lipsticks and much more lol
How long have you been blogging for?! – @fashionfriesx
Since 2015 full time.
Are you someone who loves to dress up for Mother's Day?